Welcome, Ainsworth cousins, and friends interested in Ainsworth family history! I started this website to share what I know of the origins of the Ainsworth surname, and of my own family tree. Iíve met up with several others who are also researching the Ainsworth family that emigrated from Lancashire, England in the mid-17th century to the American South. They would be happy to hear from anyone researching the Ainsworths in other areas of the world, including New England and overseas.

To connect with a group that is researching the Ainsworth surname, join the Ainsworth Genealogy Forum. The Ainsworth Genealogy forum is intended for those who are researching the genealogy of the Ainsworth surname. It is a gathering place where you can compare notes, share resources, announce discoveries, and generally chat about subjects of mutual interest. All are welcome.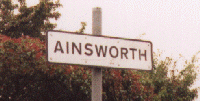 In 1996 I made a visit to England, during which I made the pilgrimage to the village of Ainsworth, where our surname originated. Please read about my discoveries, showing evidence of our family back to 1170 A.D.! (see below)
In the 17th century, probably about the time of the English Civil War, Ainsworths (along with thousands of other Lancastrians) came from Lancashire to America, some to New England, but most to the South (probably Virginia). My own ancestors came to the South, and most of the information on these pages concerns that branch of the family.
Special thanks to Barbara Ainsworth Montgomery and Bob Bollinger for their research which has opened so many doors, and to Lucille Ainsworth, whose work publishing the Ainsworth Trading Post Newsletter is the foundation for what we know.
An Ainsworth Pilgrimage: Our English Roots

---

Genealogy is my pastime, I shall not stray.
It maketh me to lie down and examine half-buried tombstones,
It leadeth me into still Courthouses.
It restoreth my ancestral knowledge.
It leadeth me into the paths of census records and shipís passenger lists Yea, though I wade through the shadows of research libraries and

microfilm readers, I shall fear no discouragement.

For a strong urge is within me.
My curiosity and motivation, they comfort me.
It demandeth preparation of storage space for the acquisition It annointeth my head with burning midnight oil.
My family group sheets runneth over.
Surely birth, marriage and death dates shall follow me And I shall dwell in the house of family history seekers

--Anonymous