Ainsworth Heraldry
There are at least four authentic coats of arms associated with various branches of the Ainsworth family, two shown here. Ainsworth of Pleasington, shown at left (the arms associated with the present day village of Ainsworth) consists of three silver shovels on a blue background, with the motto "Spes meliora" ("I hope for better things"). So if you are interested in coats of arms, you don't need to fall victim to those mail-order merchants who sell fake family histories and coats of arms.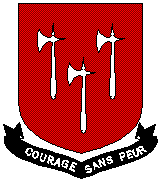 You can download a color file for printing on your color printer by clicking on the file below. Choose the format that will work best for you. All images are 5" by 7" for convenient framing.

Ainsworth of Pleasington:

Ainsworth of Smithills - coming soon.

You can also order an attractive, framable color laser print of any specified coat of arms from:
Something Different
19 The Shambles
York YO1 2LX
telephone 1904-652536
An 8"x10" print is £19.95 (includes shipping) and they accept Visa/MC/Amex or checks in £ made payable to B. Sellers. You can also get a hand-painted wooden shield; prices start around £50. You will need to specify which Ainsworth coat of arms you want (there are at least 4).

Read this to find out How to send a check in pounds sterling to the U.K.

Before getting too far into the idea of family heraldry, you should probably read an article such as "Heraldry" by J. Charles Thompson in How To Trace Your Family Tree, American Genealogical Research Institute (1973, Doubleday. $5.95 ISBN 0-385-09885-5). Essentially, coats of arms do not belong to a family, but to an individual. You are really entitled to use them only if you can prove that you are the heir (oldest son to oldest son etc.) of the individual to whom they were granted. There is nothing wrong with displaying a coat of arms of someone with your surname, as long as you understand they are not necessarily your arms. But it's nice to know one is descended from a family whose members were entitled to bear arms, and I for one will allow myself to indulge in this small vanity.
---