The Ainsworths of
Smithills Hall
In the 18th century (100 years or more after my ancestor departed for America) members of the Ainsworth family became extremely wealthy in the cotton bleaching industry. They lived in a splendid rambling Elizabethan manor house called Smithills Hall, a few miles from Ainsworth. They lived there until 1938, when they sold it to the city of Bolton for a museum and park. It is because of interest in these famous and wealthy Ainsworths, our distant cousins, that so much genealogical information is available about the Ainsworths in England. Luckily for us! A lone smokestack towering nearby (Barrow Bridge Chimney) is the only remnant of the Ainsworth Bleach Works which was a major part of the Bolton economy for over 100 years and was even visited by Prince Albert in 1851.

The coat of arms shown above is that of the Ainsworths of Smithills Hall, as distinguished from Ainsworth of Pleasington which appears on the other pages here. (Click here to get a framable print of the Ainsworth coat of arms)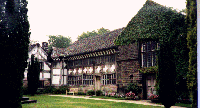 Smithills Hall is quite lovely. The house dates back to the 14th century. A portion of the house is still much as it was in Shakespeare's time, and houses a small museum with period furnishings. The house had its own chapel which is still in use as a church (St Peter's, Halliwell; on the right in the photo at left). The remainder of the house is Elizabethan with a Victorian facelift, and is presently being restored by the Friends of Smithills Hall to become a Heritage Center. The house is surrounded with pleasant gardens and extensive grounds that are kept as a park for the public (Moss Bank Park which includes an animal park and other family attractions). It makes a pleasant day's outing. Click on the thumbnail at left for a photo of part of the museum wing of Smithills Hall.
More information about this later branch of the family and its bleaching industry is available in: "The Ainsworth Family of Smithills Hall, Bleachers, from the 18th to the 20th Centuries", published by the Friends of Smithills Hall, c/o 19 Leighton Avenue, Heaton, Bolton, Lancashire BL1 4EH. (price £1.80 not including shipping) If you are an American Ainsworth, this is after our emigrant ancestors' time period, but you might find it interesting reading about your English cousins. How to send money to England
If you are of Ainsworth ancestry, it would be gracious to give a donation to the Friends, who are presently restoring Smithills Hall and because of whose work we were able to find out this information about our family.
---
Smithills Hall used to have a web page but I seem to have lost it; some information is available on the Bolton city pages and a little bit provided by a local resident here.
Resource List for Further Study - Internet links on Lancashire genealogy, books, organizations and other resources
---