An Ainsworth Pilgrimage
A Visit to Ainsworth, England:
August 1996
Like most American Ainsworth genealogists, my only knowledge of our English origins came from an archaic description in a 19th century book: "the chapelry Ainsworth, commonly called Cockey Moor, which is situated in the Parish of Middleton, Salford Hundred, in the County Palatine of Lancashire, England." Since "parishes" and "hundreds" are not depicted on modern road maps, and since the village is tiny, it was difficult to locate in the modern world.
With the assistance of church authorities in Blackburn, I was finally able to locate the village of Ainsworth on a modern day road map, just before a planned visit to England. I arrived in England knowing little other than the location of the village. Yet when I walked up to the little parish church, I found myself feeling rather overwhelmed, knowing that I was looking on the same scene our ancestor saw with his eyes probably 350 years ago or more. While we still don't know his name, we know a lot more about him than we did before.
Where in the world is AINSWORTH?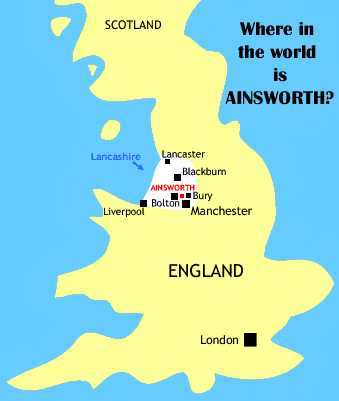 The Ainsworth story begins in the tiny Lancashire village of Ainsworth. It is situated in northwest England, just north of Manchester, midway between the large town of Bolton and the medium-large town of Bury, of which it is legally a part. It is a tiny village, population around 1000, but in 1200 A.D. was already referred to as ancient.
In 1974, to account for the immense industrial growth of Manchester and Liverpool, the areas surrounding them were split off into separate counties, Greater Manchester and Merseyside respectively. Ainsworth is located in Greater Manchester but residents still consider themselves part of Lancashire.
While it is nearby the large cities, Ainsworth itself is on top of a hill and surrounded by open moorland and farms, and when you drive up to it you feel that you are going out into the countryside. From Ainsworth, there is a view over Bolton down to Manchester. North of Ainsworth are the West Pennine Moors, a very scenic area of forests and moors on rolling hills.
You will want to take a trip to a bookstore and buy a good detail map of England to locate the village of Ainsworth and other related sites.
For photos, keep reading....
---