A Lesson in Perfection from Smarty Jones
by Martha Ainsworth

"Perfect"

is a big idea. We are fascinated with perfection, even though we acknowledge that nobody's perfect, and this is an imperfect world. A perfect game, a perfect 10, a perfect score. Be ye perfect, said Jesus. Athletes, musicians and other artists dedicate their lives to the pursuit of perfection. Some become consumed by it in an unhealthy way. Others shield themselves by disparaging perfectionism as a flaw. Imperfection is part of the human condition. Life includes disappointment and disillusionment. Good things come to an end; ultimately we lose the ones we love; things don't turn out the way we hoped. Is our fascination with perfection a way to resist these limits of our humanity?

We learned a lot about perfection in the spring of 2004, from a smallish chestnut horse named Smarty Jones, about whom national headlines frequently displayed that word: "perfect."

On a steamy Saturday in May, I rose before dawn to drive to a small racetrack in Bensalem, a northern suburb of Philadelphia. As I neared the track, traffic grew increasingly heavy; the large parking lot filled rapidly. Thousands already stood in line, buzzing with anticipation. Television cameramen and reporters swarmed through the crowd, asking, "Why did you come so far, so early in the morning, just to watch one horse gallop for five minutes?"

Not just any horse—this is Smarty Jones! The chestnut sensation, star of Bensalem, blazing into history, was on the verge of being the first horse in twenty-six years to accomplish the most difficult feat in sports, horse racing's Triple Crown. An accomplishment so elusive that in 130 years, only eleven horses have managed to sweep the Kentucky Derby, the Preakness and the Belmont, three grueling long-distance races in the short span of five weeks. An accomplishment so difficult, requiring so much stamina, strength and courage, many experts had predicted that because of changes in Thoroughbred breeding, no horse would ever be able to do it again.

Many of those at Philadelphia Park that Saturday had never seen a racehorse before, but they came to witness history. Inspired by his triumphs over adversity, the public fell in love with Smarty Jones. This unlikely hero was not a million-dollar Kentucky blueblood; he was a scrappy blue-collar horse from the wrong side of the tracks, an equine Rocky. It is a miracle that he ever raced at all. The horseman who bred him was murdered by his own stepson. Grieving the death of his friend, and struggling with his own serious illness, the discouraged owner, Roy Chapman, sold his farm and all his horses. But at the last minute, he decided to keep the weanling Smarty Jones. And then the colt nearly died before he ever raced, fracturing his skull during a training accident. But he recovered, and last fall Smarty Jones finally began to run, and to win... and win... and win.

Yet Smarty Jones was still a small-time horse, with a small-time trainer and a small-time jockey at a small-time track. Philadelphia Park has been described as a soulless betting parlor, not a training ground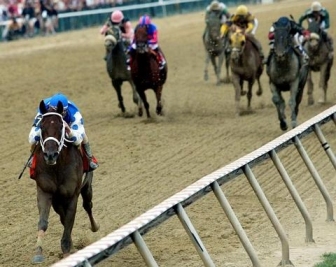 for champions. Chapman, a retired auto dealer, confined to a wheelchair by emphysema, self-described ham-and-egger, raced mostly cheap claimers. John Servis, genuine nice guy, made a modest living training unremarkable horses. Jockey Stewart Elliot never made it to the big time despite his riding skill, struggling with alcoholism and a troubled past, but had pulled his life together and had been sober four years. This was a team of good people, ordinary hardworking people, deserving people on the downside of advantage. And one day, out of the blue, they were handed a gift, a feisty liver chestnut colt who, despite modest breeding, ran like a rocket.
As Smarty Jones won one victory after another, Servis and Chapman dared to dream the impossible. Could this be a Kentucky Derby horse? Could ordinary guys from Philly aspire to the most prestigious prize in racing? Servis plotted a careful course leading to Louisville on the first Saturday in May. Chapman's family worried over his failing health; would he even live to see his dream realized? Despite his victories, the racing world didn't believe in the colt; after all, he was from Philadelphia, so how good could he be? Even when Smarty Jones' string of victories began to capture the public's imagination, experts continued to doubt his ability to win at longer distances, to win on an off track, to win against the aristocrats of Thoroughbred racing.
Smarty Jones, unconcerned, met every challenge. Coming in to the Kentucky Derby, he had raced, and won, six times—a perfect record. The gutsy colt then overpowered the field to win the Kentucky Derby. "Perfection for Smarty Jones," read the New York Times headline. Two weeks he later breezed to victory in the Preakness Stakes in a record margin of victory, amassing an eight-race perfect record. Experts said Servis' careful management of Smarty Jones was perfect, and competing riders acknowledge that Elliot gave him a perfect ride every time. Perfect. Not bad for ordinary guys from Philly.
We can learn a few things about perfection from Smarty Jones. First lesson: perfection is a gift. Money can't buy it. You can't expect it or plan on it. It's an act of grace. As a musician I know that one must strive for perfection, but ultimately, some inexplicable spark of inspiration, not of one's own doing, perfects our efforts. Smarty Jones' competitors include million-dollar Thoroughbreds, products of generations of careful breeding; yet perfection came in the form of a colt with modest bloodlines. Smarty Jones' perfection wasn't purchased or planned. It just happened. It was a gift.
The gift of perfection should be savored. Smarty Jones' connections had it right. Chapman refused blank-check offers to buy Smarty Jones; he and his family were enjoying the ride too much to sell at any price. John Servis, with humility and gratitude, was as much in awe of his horse as anyone. Except, perhaps, his competitors. Rival jockeys who had only seen the back of Smarty Jones while losing to him nonetheless sang his praises with unprecedented fervor. Competing horsemen abandoned their usual bravado in favor of unabashed admiration. Noted turf columnist Steve Haskin wrote, "Is there anyone now who has doubts that divine forces are guiding this remarkable colt?" Racing fans delighted in the moment of perfection. On that Saturday morning at Philadelphia Park, an eerie, reverential hush enveloped the crowd when Smarty Jones galloped by, as we savored the significance of the gift we were witnessing.
When you receive freely, give freely. Without a trace of arrogance, John Servis gave generously of himself, to the press, to schoolchildren, even answering fan mail. He knew this gift was not solely his to possess. Smarty Jones was a gift to us all. Servis understood how much it meant to us, and shared the gift, sharing his wonder, letting us all come along for the ride and enjoy the Smarty Party. In his generosity, Roy Chapman shared Smarty's winnings with low-income track workers and used Smarty's fame to generate charity donations.
Alas, one lesson was waiting in the future: perfection is transient. On June 5, Smarty Jones seemed likely to achieve a place in history as the 12th winner of the Triple Crown. Turning for home, he led the field and a record crowd of 120,000 leapt to its feet. But despite a heroic effort, in the last few yards of the race, he tired, and another horse just got past him. The imperfection of the world caught up to him. Perfection doesn't last forever. Savor it now, while you can.
Savoring moments of perfection helps us cope with the world's imperfection. When the news on the front page is disturbing and disillusioning, we look for something to restore our hope in goodness, to revive our faith in the possibility of perfection. Great racehorses meet this need especially well. They inspire us with their grace and power, their sheer love of running, the depth of their courage. Seabiscuit captivated the downtrodden during the Great Depression. The immortal champion Secretariat was a powerful antidote to the Watergate hearings. Smarty Jones is one athlete who won't get caught in a sex scandal; he'll never break the law or struggle with substance abuse. Horses are morally neutral, blank canvases upon which, inspired by their greatness, our imaginations project our own hopes and dreams. We see ourselves reflected in their dramas of tragedy and triumph, randomness and redemption. The great ones are icons of our hope.
In our mind's eye, that day at Belmont, we were flying along with Smarty Jones, asking him to outrun the world's gloomy imperfection and carry our hope beyond the limits of our humanity. For a brief moment in time, we savored the gift of a chestnut icon of perfection and hope named Smarty Jones.
---
This article appeared on Beliefnet.com in June 2004.


© 2004 Martha Ainsworth. All rights reserved.