Robert Shaw, Choral and Orchestral Leader, Is Dead at 82
By James R. Oestreich
New York Times
Tuesday, January 26, 1999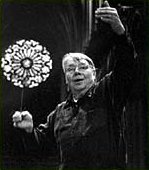 Robert Shaw, the renowned choral conductor and the elder statesman and great spirit of American musical performance, died yesterday at a hospital in New Haven, where he had been visiting one of his sons at Yale University. He was 82.
The cause was a stroke, according to the Atlanta Symphony Orchestra, of which he was music director emeritus and laureate conductor. Mr. Shaw continued to perform until recently, although he was increasingly forced to cancel appearances because of illness. In his final New York performance, last April, he conducted Bach's Mass in B minor at Carnegie Hall.
He canceled his participation in the Robert Shaw Choral Workshop at Carnegie Hall this month because of back problems, giving way to his longtime assistant, Norman McKenzie, and to the conductor Charles Dutoit. The same back problems kept him from attending a memorial service last week for his friend Judith Arron, the executive director of Carnegie Hall, who died last month.
But he traveled to Yale over the weekend to see his son Thomas perform in Beckett's "Endgame," his senior acting and directing project.
Although he was music director of the Atlanta Symphony for 21 years, Mr. Shaw was always most respected for his work with choruses. His lasting monuments include the Atlanta Symphony choruses and the Collegiate Chorale in New York.
Robert Lawson Shaw was born in Red Bluff, Calif., in 1916. His father was a minister in the evangelical Church of the Disciples of Christ and his mother a religious singer. He intended to enter the ministry himself, but instead carried a preacher's flair and hortatory air into his musical efforts, while expanding saltily on a preacher's vocabulary.
He entered Pomona College in California in 1934, majoring in religion and philosophy. But there, as director of the glee club, he caught the ear of the popular radio band leader Fred Waring. He moved to New York in 1938 and organized the Fred Waring Glee Club, which he led until 1945.
In 1941, he founded the Collegiate Chorale, an amateur group of more than 150, as an outlet for more classical repertory. With the chorale's racially diverse membership, which changed constantly during the war years, Mr. Shaw liked to call it "a melting pot that sings."
As he would continue to do throughout his life, he expounded his techniques and, even more, his philosophy in a series of lively letters to the singers headed by a salutation that Joseph A. Mussulman adopted as the title of his 1979 Shaw biography, "Dear People..."
"I get a horrible picture, from the way you sing,"he wrote to chorale members in 1943, urging that attention be paid to small notes, "of little bitty eighth notes running like hell all over the place to keep from being stepped on. Millions of 'em! Meek, squeaky little things. No self-respect. Standing in corners, hiding behind doors, ducking into subway stations, peering out from under rugs. Refugees.
"Dammit, you're all a bunch of Whole-Note Nazis."
For Mr. Shaw, music was always more than a luxury or entertainment. As a form of communication, it was spirit itself, a moral force. "You don't join the Collegiate Chorale," he wrote. "You believe it. It's very damn near a religion."
In 1945 Mr. Shaw prepared choruses for performances by Arturo Toscanini and the NBC Symphony Orchestra, including famous accounts of Beethoven's Ninth Symphony.
Also in 1945, still under Waring's auspices, Mr. Shaw undertook the first of his many choral workshops. In 1948, he founded the Robert Shaw Chorale, a professional group of 40, which toured and recorded and made his name synonymous with excellent choral performance.
Mr. Shaw conducted the San Diego Symphony from 1953 to 1958. He left the Collegiate Chorale in 1954 and became associate conductor of the Cleveland Orchestra under George Szell from 1956 to 1967. He raised the Cleveland Orchestra Chorus to new heights.
In 1967, Mr. Shaw disbanded his chorale and moved to Atlanta, where he served as music director of the Atlanta Symphony until 1988. He oversaw the orchestra's transition from a part-time group of 60 players to a full-time, year-round ensemble of 93. He conducted the Atlanta Symphony in its Carnegie Hall debut, in 1971, and at the inauguration of President Carter in Washington, in 1977. He led its first European tour, in 1988.
In 1967, Mr. Shaw founded the Atlanta Symphony Chamber Chorus, and three years later he added the Atlanta Symphony Orchestra Chorus. He retained close ties to both until his death.
Already in 1943, the National Association of Composers and Conductors named Mr. Shaw "America's greatest choral conductor." That reputation grew and was certified in 1990, when Carnegie Hall established an annual series of professional workshops under his direction.
Mr. Shaw's rehearsal techniques, isolating rhythm, pitch or enunciation, were calculated for maximum effect and efficiency, and could seem mechanistic at times.
He carried a similar pragmatism into his treatment of scores. He might reseat singers, mixing voices to achieve a homogeneous overall sound, or shift voices to another line if it suited his concept of the desired sonority or the way that sonority was best projected.
But he could turn around and discourse at length on the spiritual and mystical meanings of a text. In preparing a performance of Britten's "War Requiem" at the Carnegie Hall workshop in 1994, he said of Wilfred Owen's text and Britten's music, "Whether any one of us 'makes it' in a hereafter I find somehow less important than the presence of humanity such as this."
Other notable Shaw performances of recent years at Carnegie Hall included a Handel "Messiah"in 1992, on the 250th anniversary of the work's premiere, and a Mahler "Symphony of a Thousand," in 1995, with the Cleveland Orchestra, joined by hundreds of choristers around the hall.
Mr. Shaw fostered the solo careers of young singers, including Sylvia McNair, Marietta Simpson, John Aler and David Arnold. He also promoted contemporary music, and won awards for his service to new or American music. In 1983, he initiated a commissioning program, the American Music Project, in Atlanta.
He was made a member of the National Council of the Arts in 1979. He was awarded Kennedy Center Honors in 1991 and the National Medal of Arts in 1992 and named "Officier des Arts et des Lettres" by the French Government in 1997.
His conducting won 14 Grammys, and his latest recording, of music by Barber, Bartok and Vaughan Williams, has been nominated for an award this year. He prepared English translations of many of the choral masterworks he conducted. He often talked about writing several books, but never got around to them.
Mr. Shaw seemed crushed when his second wife, Caroline Saulas, died in 1995, after 21 years of marriage. (He and his first wife, Maxine Farley, were divorced in 1970.) "The problem is simply loneliness," he said in 1996. "I've never met a marriage quite like it. I've only experienced two, really, and one of them was my parents'."
In addition to his son Thomas Lawson Shaw of Atlanta, Mr. Shaw is survived by a daughter, Dr. Johanna Shaw of Providence, R.I.; two other sons, Peter Thain Shaw of Portland, Ore., and John Thaddeus Shaw of Lathrop, Calif.; a stepson, Alexander Crawford Hitz of Atlanta; a sister, Mrs. Harrison Price of San Pedro, Calif., and a brother, John of Baldwin Park, Calif.
It was possible to admire Mr. Shaw's craftsmanship and respect his achievement without invariably swooning at the results. Often enough, all those spiritual elements that went into the making of a performance shone through nobly, but at times a performance could seem merely "perfect" -- meticulous, wondrously refined, even powerful -- without piercing to the heart.
Still, his achievement is likely to remain the standard for many decades, largely in the hands of the disciples he cultivated. As for Mr. Shaw himself, he is undoubtedly already appraising the heavenly choirs with a critical ear, wondering how best to go about shaping them up. He will probably not be diplomatic about the need to do so.